Notable Features of Exchange EDB to PST Converter
Flawless EDB Conversion
The automated EDB to PST Converter converts EDB to PST, EDB to EML, MSG, PDF and MBOX file type respectively. Data formatting is properly maintained. The required items can be selected & exported to desired format.
Convert Multiple EDB Files
Export multiple Exchange EDB files simultaneously for restoration purpose. Batch mode is available to convert EDB file. Select the required EDB files simultaneously and display selected EDB file for conversion.
Advance Recovery
The EDB Recovery tool gives option to enable Deep Scanning of EDB Files & recover deleted emails from Exchange database Deleted Folder. Advance mode helps in deep scanning of Exchange Server Data.
Convert Public & Private Stores
Recover & convert entire stores of Exchange Server Pub.edb as well as Priv.edb even after deletion with the originality of EDB data maintained like: Personal Mailboxes & other Public Folders.
Recover From Offline Server
Since the tool also loads corresponding STM file with EDB file i.e. Exchange Repository (EDB & STM); user can recover mails even when Exchange Server is not available or in offline mode.
Selective Items Export
The tool exports Exchange items from selected & user desired folders along with other items like; Email, Contacts, Calendar, Notes, Journal, Notes, Tasks, etc. The items which are not required for export can be unchecked by removing the 'check-mark.
Preserve Folder Structure
Original Folder Sequence is maintained during EDB recovery & conversion process. Email data is also preserved along with the Folder Structure. Customized user labels and their hierarchy are maintained while EDB to PST file conversion is executed.
Create Export Report
After export has been executed the software generates an export report in CSV format, which consists of the source & destination file details for easier management of the recovered and corrupted Exchange Server data separately in future.
Steps to Recover & Convert EDB to PST File
Step - 1
Browse and Scan Corrupt Exchange Server EDB File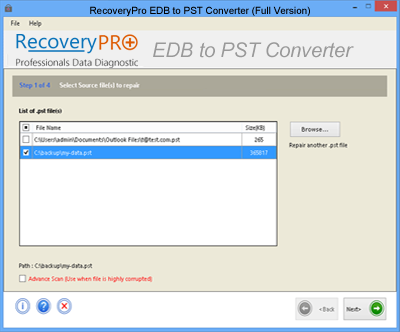 Step - 2
Advance Scan Option to Recover Highly Corrupted EDB File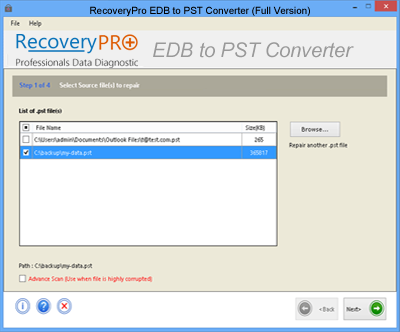 Step - 3
Start Recovery Process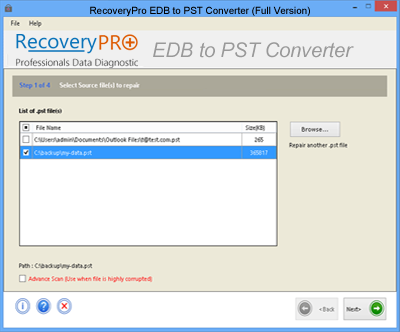 Step - 4
Select Folder To Export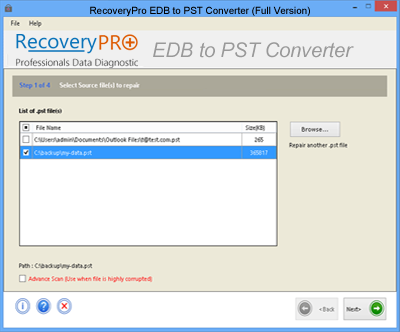 View Screencast of EDB to PST Converter

Product Videos

Advance Mode Recovery
Recover the permanently deleted items from Exchange Server. Advance mode scan EDB file deeply & recover emails, contacts, calendar, etc.

Select–Deselect Folder
User can export selective items according to requirement. By placing check bar user can export desired items.
Solution Regarding Commonly Asked Queries
Can I use the software for personal business ?
Yes, EDB to PST Converter Partner Directory lists a variety of service providers with rate plans for personal and business use.
Do I need to install Outlook on my machine to use the software ?
No, Outlook is not necessary for converting EDB file to PST format because Outlook Mode can be turned off on the software if Outlook isn't available on your machine.
How can I recover Exchange Server public folder and private stores ?
By using the software you can recover both Exchange Stores i.e. Public as well as Private Folders.
Download EDB to PST Converter
Check the Demo version of Exchange Server EDB recovery software by downloading its setup for free. The trial version export is limited for mails with their content and header information.